Oil Change Service near Naperville, IL

Have you exceeded the mileage sticker that is on your windshield? Maybe you aren't receiving the same MPG that you used to, and your check engine light has illuminated. Whatever the case may be, we at Bill Kay Chevrolet are here to remind you to drop by for your regularly scheduled oil changes! This way, your powertrain can run in an optimal manner for years to come. If you have any questions or concerns prior to stopping by, make sure to contact us at 630-413-4161.
Timeline
Like most components that comprise your automobile, there is a timeline that should be followed to keep up with your oil changes. If you fail to abide by this schedule, it can result in a damaged powertrain, which is far more costly to repair than your typical upkeep. The reason why you need your engine's lifeblood replaced so often is that it is constantly circulating through your system, making sure that the various parts are working in tandem rather than against one another. It also acts as a cleaning agent, sweeping away any dirt, debris, and byproduct to ensure your powertrain is as pristine as possible. After its extended use, it will start to degrade, resulting in decreased effectiveness. The most common sign of its erosion is it changing from an amber color to a darker hue. This can typically result in overheating, which is why we suggest swinging by every 3,000 to 5,000 miles!
Warning Signs
If you haven't noticed them already, there are a few warning signs that will begin to appear that will let you know you are long overdue for an oil replacement. It is important to avoid these altogether through routine maintenance, so if you notice any of the following red flags, make sure to drop by our Service Department as soon as possible! For starters, we suggest that you take a quick peek at your Owner's Manual for a manufacturer's recommendation. Then, if you notice a scraping sound coming from your engine bay, then that means your system's parts are no longer working cohesively, and are starting to grind against each other. Another thing to be aware of is the smell of oil entering your cabin. This means that your levels are low, and the fluid is starting to burn off into the exhaust area. Lastly, check your tail pipe for excessive exhaust smoke!
Tools
We have a few online features that you can use to help streamline the service process to limit your time spent at our location. To begin, you can get in touch with one of our mechanics via the Ask a Tech form. Once we receive your submission, we will work tirelessly to get back to you with a detailed response. Then, if you are ready to secure a date and time that doesn't interrupt your to-do list, fill out the Schedule Appointment form. Lastly, we suggest that you take a look at our Service Specials to see how you can line your pockets with some extra cash!
Stop by Bill Kay Chevrolet for your oil change service near Naperville, IL. We have flexible hours and look forward to meeting with you as soon as today!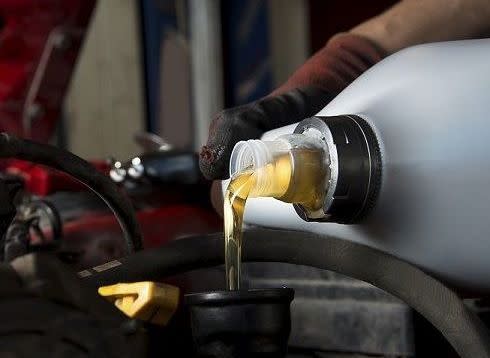 Service Hours
630-413-4161
| | |
| --- | --- |
| Monday | 7:00 am - 7:00 pm |
| Tuesday | 7:00 am - 7:00 pm |
| Wednesday | 7:00 am - 7:00 pm |
| Thursday | 7:00 am - 7:00 pm |
| Friday | 7:00 am - 7:00 pm |
| Saturday | 8:00 am - 4:00 pm |
| Sunday | Closed |
Testimonials
Mr Booe understood customer satisfaction
CARS
11-1-2019
Pleasant
CARS
10-31-2019
Little disappointment
CARS
10-31-2019
Always Friendly and prompt!
CARS
10-31-2019
Great Experience
CARS
10-30-2019
Great experience for a first time car buyer
CARS
10-29-2019
great employees
CARS
10-29-2019
New truck purchase
CARS
10-26-2019
Volt Check-up
CARS
10-25-2019
Excellent Service
CARS
10-24-2019
recall complete
CARS
10-23-2019
Good service done quickly
CARS
10-23-2019
Smooth transactions
CARS
10-22-2019
Good service and fast service
CARS
10-21-2019
100% Best Dealership 100% Honesty
CARS
10-20-2019
Pleasant experience
CARS
10-20-2019
GOOGLE
10-19-2019
Great
CARS
10-18-2019
Easy, comfortable, relaxed
CARS
10-15-2019
smooth
CARS
10-14-2019
Very professional and friendly
CARS
10-14-2019
GOOGLE
10-14-2019
YELP
10-14-2019
GOOGLE
10-10-2019
Jaime Rocks!
CARS
10-10-2019
Service dept
CARS
10-9-2019
Easy purchase process
CARS
10-8-2019
Nice dealership
CARS
10-8-2019
Great experience
CARS
10-7-2019
Oil Change/Tire rotation
CARS
10-7-2019
Excellent, very friendly
CARS
10-7-2019
New car
CARS
10-7-2019
YELP
10-3-2019
Air Vent Motor and Breaks replaced!
CARS
10-3-2019
Great experience with some questions
CARS
10-2-2019
Car shopping
CARS
9-28-2019
GOOGLE
9-25-2019
Read More